Apostille Texas
A Texas Apostille is a stamped sheet of paper affixed to your Texas document that will make it valid outside the United States.
Texas is a beautiful state, but sometimes life's road is winding. Yesterday you lived in Austin, and today your wife is Italian and you are a resident of Rome. Moving from one country to another requires not only to order  things but also in documents. How do you make a document issued in Texas legal in other countries? To do this, you need to apostille it.
How to get an apostille for documents in Texas?
The success of this case depends on whether you have the correct documentation in your hands. If your document was issued no more than 5 years ago, if it was issued by an appropriate institution, you will not have any problems obtaining an Apostille in Texas.
Features of apostille documents in Texas
– apostille is affixed to notarized documents only if the notary's seal has a notary's license number
– for birth and death certificates issued by the Texas state registrar, the document must be issued no more than 5 years ago
 – marriage certificates must be issued by a court clerk
– divorce decisions must be issued by the district court
How to get an apostille in Texas for personal documents like Vital Record, Notarized document, court/judge order?
Walk-in service
Secretary of State

Authentications Unit

1019 Brazos

Austin, TX 78701

Walk-In Service: Room 106
Service by mail:
Secretary of State

Authentications Unit

P.O. Box 13550

Austin, TX 78711-3550
Can Texas Apostille be verified online? 
Yes, please follow the link https://webservices.sos.state.tx.us/certificationsA/index.aspx and input Certificate Number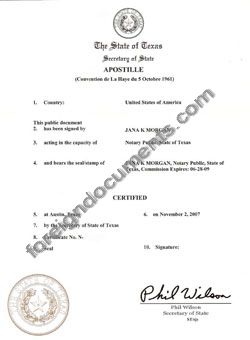 Is it better to order a translation of a document before or after receiving the apostille?
Considering the fact that documents cannot be partially translated, and the apostille is part of the document, therefore it also needs to be translated